The Labyrinth at Zion
The labyrinth at Zion is open to everyone, at any time. Whoever you are, whatever you believe, whatever spiritual journey you're on, you are invited to explore this ancient and powerful spiritual tool. You don't need any expertise or training: there is only one winding path of grass between the stones. Though the path can be disorienting and surprising, it will lead you to the center, and there's only this one path to retrace on your return. You cannot get lost: there's no way to do it "wrong." Unlike a maze, in which one puzzles out how to avoid the dead ends and blind alleys, in a labyrinth there are no choices to be made. Your focus can be on your interior journey, on how God is present with you in every step.
There have been a couple of common ways of approaching the labyrinth. The medieval model was the pattern of purgation, illumination, and union. As one author writes, "The circular path inward cleanses and quiets us as it leads us in. The unwinding path integrates and empowers us on our walk back out."
Today we might use different language to express the same pattern: we let go, let in, and bring back. As we move towards the center, we might allow ourselves to let go of something that's bugging us, a fear or anxiety, our need to be in control, or some anger or resentment we're holding onto. This prepares us to let in something new: an insight, an emotion we've shunted aside, a feeling of connection or centeredness, a memory, a moment of clarity or communion. This may come as a surprise to us—just like reaching the center of the labyrinth often comes as a surprise, because the long, winding path seems so "illogical." Especially as we make our return, we prepare to bring back what we've found into our daily lives—to take some action based on what we discovered in the labyrinth, or to take up some work of healing yourself or a relationship, or simply to go about the rest of our day as a continuation of the walk from a prayerful center, knowing that God is walking before us and beside us.
Others find it more useful to think about the labyrinth is as a physical manifestation of an interior journey we're on. Perhaps you're in the midst of a transition—into a new identity, into a new job, into a new stage of life, into a new role in your family or community. Maybe you're discerning how to make a change in your life or your relationships. Maybe you're seeking forgiveness, or to forgive. Walking the labyrinth might help you see your interior journey in a new way, and to see God as present with you on that journey, through all its twists and turns and disappointments and surprises.
As Lauren Artress writes in Walking a Sacred Path: Rediscovering the Labyrinth as a Spiritual Tool, "Losing our way in life is not only a possibility, it is an experience that is part of the spiritual path. We often don't realize that the way to God is generous and error is part of the journey. As soon as we become conscious that we are lost, we have found our way again. The path of the labyrinth is also forgiving. One person recounted her experience. 'On the return out of the center, somehow I missed the path and returned a second time to the center. There I heard God's reassurance: "Go ahead. Sometimes you have to repeat the path, but you will be held at the center." I let things flow after that, and some amazing energy flowed. Healing energy. I am deeply awed.'"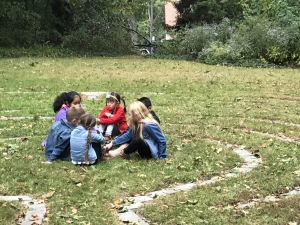 Again, there's no wrong way to walk the labyrinth, and your experience will be its own thing.
Some people don't receive answers to the questions they're asking, but come up with a new question. Some people just find themselves crying, and they don't know why. Some people discover they feel angry or hurt—feelings they haven't allowed themselves to feel before: that can be a step toward healing, even though it's not fun. Adults tend to adopt a serious, even solemn, attitude in the labyrinth, but maybe you want to approach it like many kids do, running through it, laughing at the tight turns. However you enter into this, however it goes, trust that God is with you, and offering something to you for your healing, your growth, your joy.
The History of the Labyrinth
The labyrinth has been a symbol for the spiritual journey for almost 4,000 years: the oldest labyrinth that could be walked is thought to have been built in Egypt by King Amenemhet III about 1800 BCE. Labyrinths were quickly incorporated into early Christianity: the earliest known Christian labyrinth is found in the 4th century basilica of Reparatus, Algeria. It was in medieval Christianity, however, that the practice of walking the labyrinth really took root. In those days, pilgrimage was an important discipline and expression of faith: many Christians prepared for years to take a once-in-a-lifetime journey to Jerusalem, or to Santiago de Compostela in Spain. Scholars believe that labyrinths were carved into the stone floors of medieval cathedrals to give Christians an experience of pilgrimage when political instability made a journey to a distant sacred site too dangerous. One never left the walls of the cathedral, yet the interior dimension of the pilgrimage was still available.
Zion's labyrinth is modeled after perhaps the most famous of these medieval labyrinths, which is laid in the stone floor of the cathedral in Chartres, France. It was built between 1215-1221 CE; legend has it that this design was part of King Solomon's Temple and was carried to France by the Knights Templar.
Our labyrinth at Zion was built in 2019. After years of patient prayer and planning by Merrill Tomlinson Carinci, the labyrinth was built by Alexander Hom as part of his Eagle Scout project. Alexander's scout troop, local tradesmen, and volunteers from the parish all pitched in. It is a tremendous gift to us, and we hope that whole community will share in it.